Hello everyone!
I know it has been forever since I last posted anything. I apologize for being so silent.
I have been posting small updates at my DeviantArt.com account http://themushroompeddler.deviantart.com , but I plan to start posting here at least a few times a week as things move forward.
Just a quick overview of the last year or so...
I finished the prototype for the large unicorn (about 23" tall). Tada!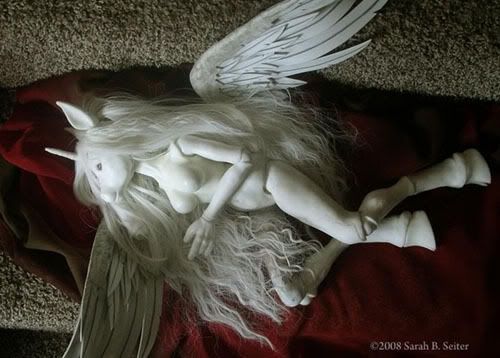 I love her a lot and am happy with her looks, however I have found that the large pieces of resin are difficult to cast and quite heavy. It makes her unable to stand and fairly awkward to pose which is not at all up to the standard I am going for.
I became pregnant with my third child early 2009 and had to stop casting until after the baby was born (Oct 2009) to avoid the resin fumes. As soon as I could I jummped back into making some decisions about where I wanted to go next with this business.
That said, I have reevaluated what I would like to do and have decided to do a smaller version about 15" tall. She is much easier to cast and can stand on her own! Yay!
I felt that not only did making her smaller make easier to cast and pose, but also it would put the cost of purchasing her closer to a price most people could more easily afford.
I also created a baby that is the perfect size for her (about 3ish inches tall) which is available to order at Etsy here - http://www.etsy.com/shop/TheMushroomPeddler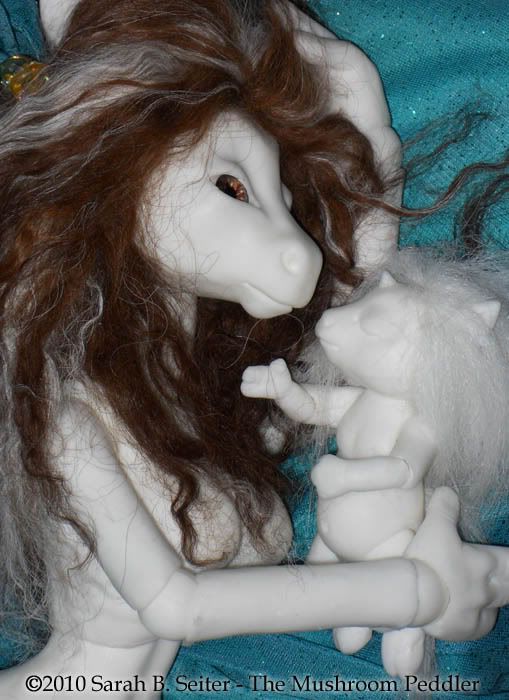 I am working on perfecting the smaller lady unicorn and will begin selling her as soon as I have her to the standard I am going for. I am also working on a couple of other fun projects that will be talked about in the coming months so please stay tuned :)